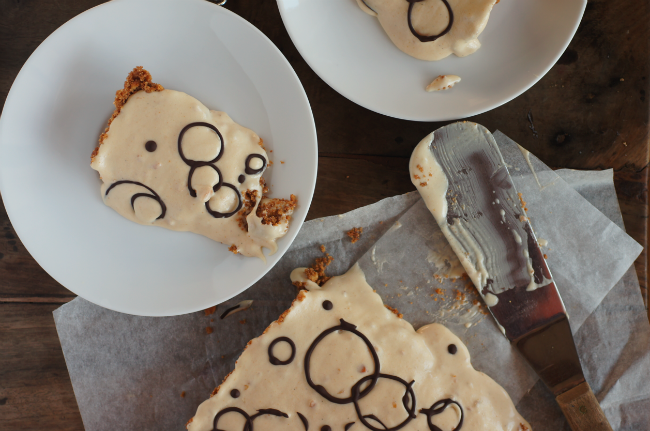 Last week I found myself crying onto my laptop, tears dripping into the keyboard and making the track pad fail. I had never met Jennifer Perillo, her two girls, or her husband Mikey. Yet when Mikey suddenly passed away last week, I found myself deeply sad for his loss. I simply cannot imagine the heartbreak. I thought of my uncle who broke his neck six weeks ago and the incredible luck that meant he could walk away with his life and continue caring for his three little sons.
The story touched so many hearts and the response from the food community has been truly fantastic. Jennifer posted that "For those asking what they can do to help my healing process, make a peanut butter pie this Friday and share it with someone you love. Then hug them like there's no tomorrow because today is the only guarantee we can count on." Hundreds and hundreds of people made a pie.
Today I finally made the pie and shared some of it with my mum (I was in London over the weekend so I couldn't make the pie on Friday). It got pretty messy, but it felt right to show you it this way: chaotic. It's sweet and comforting: a hug made of chocolate, peanut butter and cream. I piped interlocking circles on top in chocolate. The circles represent the strength and unity of each individual, but most of all they represent the strength of community, love and friendship.
This pie is for Mikey, for Jennifer and her girls, for everyone I love, and particularly for everyone I love that I cannot hold in my arms today and tell them how much I care.
So here it is: #APieforMikey.
*
The recipe is
here
, on Jennifer's post.
The
White on Rice Couple
produced this beautiful video of making the pie. It brings fresh tears to my eyes every time.
UPDATE: Hop over to the new
Bloggers without Borders
to find out how you can donate to a fund to help Jennie.