I first made these for my Mum last Mothers' Day. This year I made them again for pudding and they were very nice - but not stunning. I've always like Sticky Toffee Puddings - they're reliably good pub puddings - but they've never really blown me away.
Today I decided to re-photograph one of the remaining cakes as I hadn't got what I wanted on the night. So I made up another batch of sauce but this time I added a new touch - a little ground ginger. I tasted some and immediately went to find mum to force a spoonful into her mouth as it was so lovely, but I still wasn't 100% sure it would work with the puddings. So I brushed and poured it over and started taking photos. The dogs and Mum were all hovering close by, waiting for me to finish - and I have to admit, I really wanted to just quit and and discover how it all came together.
When I finally finished we attacked. I had to do a little happy dance around the flat. The ginger takes the pudding to another level - every flavour is enhanced. It's also totally addictive - despite having just eaten tea we ate the whole thing (including the spare sauce) in about two minutes flat.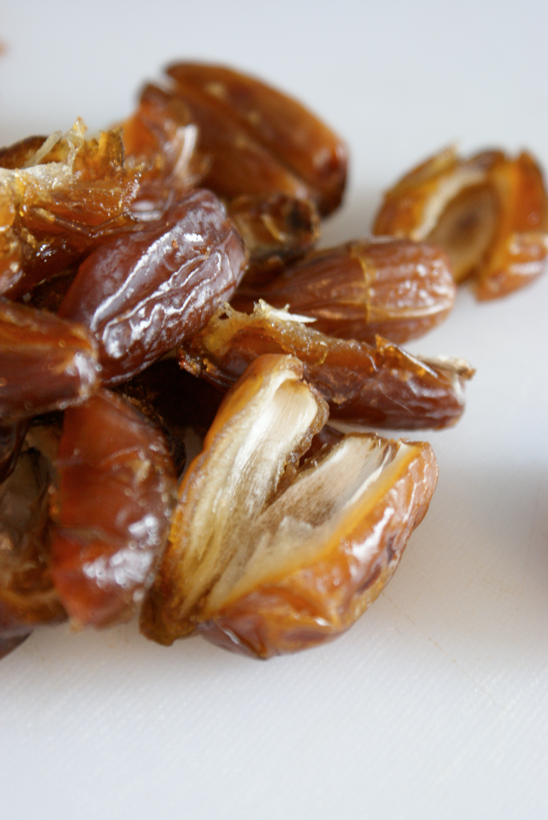 I named these volcanoes because of the way they puffed up and broke the surface when they baked. I had decided that instead of making squares cut from a tray, I would use individual dessert tins. I popped them in the oven with a little trepidation as to how they would turn out. Turns out it's a good thing I quite like the rustic, uneven look...
Still, it turned out to be for the best as it meant I could fill the middles with ginger butterscotch 'lava' which then soaked through the sponge and that's definitely a good thing. Look at the final photo and you'll see what I mean!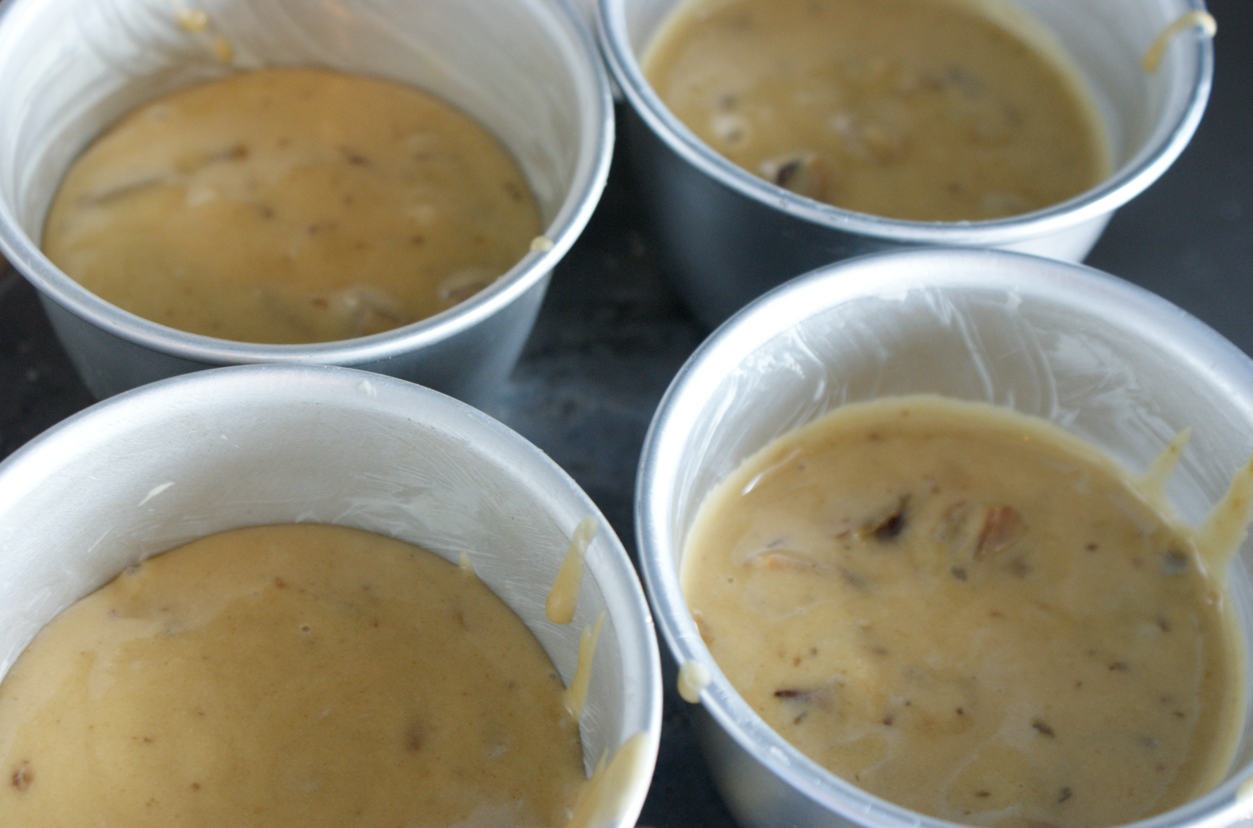 I dedicate these to my Mum, for being absolutely wonderful and for teaching me to follow my intuition and sprinkle a little ginger into something on a whim.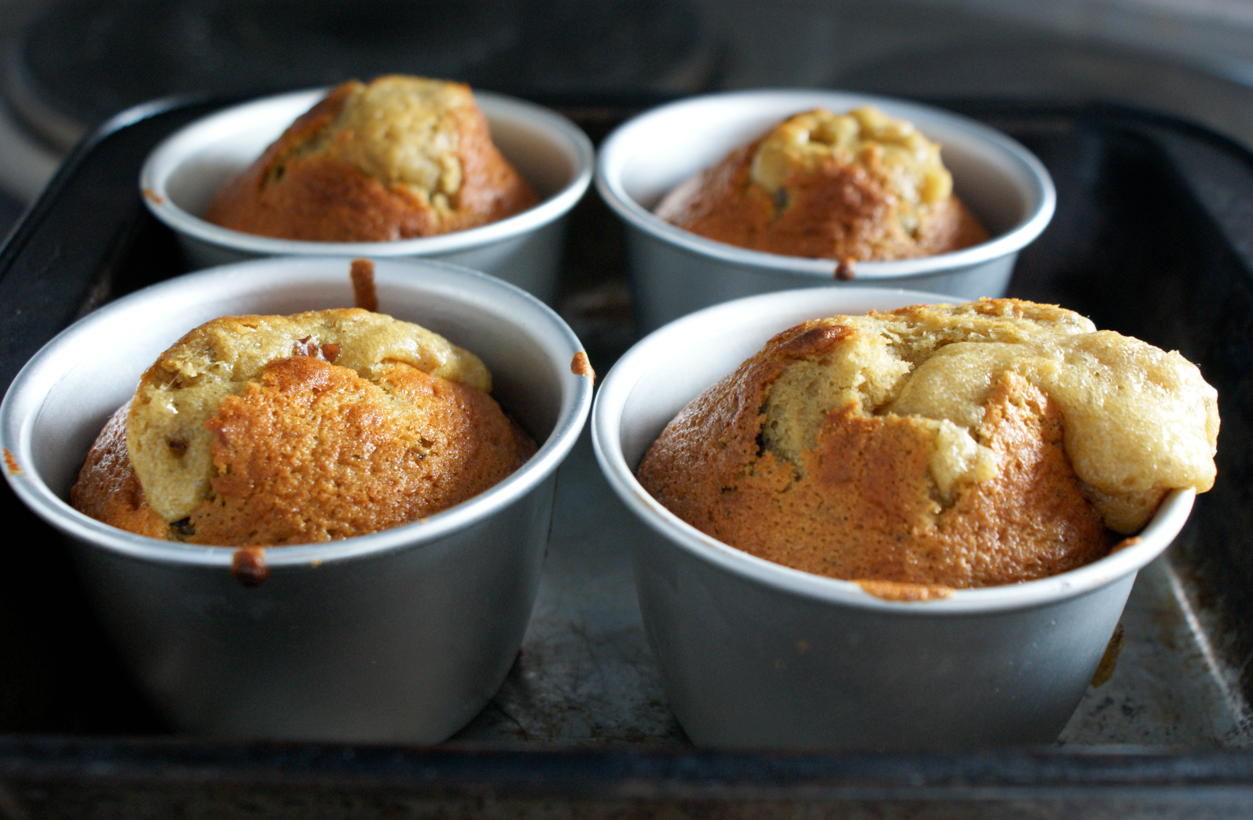 Sticky Toffee Pudding Volcanoes
(Adapted from Annie Bell's Gorgeous Desserts)
For the puddings:
75g dates, pitted and roughly chopped
125 ml water
1 tsp bicarbonate of soda
40g butter
65g soft brown sugar
1 egg
1 tbsp golden syrup
1/2 tsp vanilla essence
100g plain flour
Preheat the oven to 170C. Butter 4 individual dessert moulds. Put the chopped and pitted dates into a small saucepan with the water and bring to the boil before turning the heat down and simmering for five minutes. Remove from the heat and add the bicarbonate of soda - it will froth up madly. It goes a slightly odd colour too, but don't worry!
Meanwhile cream the butter and sugar together in a food processor (a mixer would be fine too), then add the egg and beat in. Follow with the syrup, essence, and flour. Transfer to a new bowl (or just take the blade out) and beat half the the date mixture in, followed by the other half. Pour the mixture into the tins and put into the oven. Mine took about 15 minutes to become golden brown on top and still slightly gooey in the middle. Three of mine had little holes in the top from bubbling up - I made a hole with the knife in the forth to allow the sauce to sink through.
For the sauce:
75g dark muscavado sugar
75g unsalted butter
100 ml double cream
1/2 tsp ground ginger (optional but highly recommended)
Heat the sugar, butter, ginger and cream together in a small pan, whisking until smooth. Unmould the puddings and brush all over the top and sides with the sauce and fill up the hole in the centre. Pop into the oven for five minutes - they should go slightly crispy. Serve with lots more sauce poured over them and the spare sauce in the jug (if you have any left after 'testing'...). I love them with a little vanilla ice cream or as you can see here, plenty of double cream.
Makes 4.