Hello! I'm Emma. I'm
19 20 21 22
23. I love to eat. I love to cook.
When I started this blog in 2009, it was a way to capture my joy at being back in a kitchen during my university holidays (in my first year we couldn't cook in term time). I quickly realised that I had a single focus: baking and desserts. Though I had a patchy first few months, I kept blogging all the way through my degree (I left Oxford University in 2011 with a degree in English Language and Literature, specialising in medieval - yes, I am a geek) and haven't stopped since.
Photo taken by the lovely Stephanie Shih of Desserts for Breakfast when I visited California in 2012.
I've had quite a few adventures since I left university.
First, I spent six months studying pâtisserie at Le Cordon Bleu in London (Oct 2011 - Feb 2012). I had mixed feelings about the experience when I left.
Then, in the spring and summer of 2012, I wrote a
cookbook proposal
. A few weeks after it was submitted, I asked my agent (the lovely
Juliet Pickering
) to withdraw it from the publishers. My reasons were two-pronged. I had an offer with a deadline to return to Oxford as a graduate student that I really wanted to try out. I'd also lost my faith in the proposal idea and didn't want to continue and sign myself up for years of work unless I was sure. It was still a difficult decision - you can read more about my choice
here
and
here
.
The view from St Mary's tower over Oxford.
So I went back to Oxford and started a MSt in medieval literature in October 2012. The early story behind my decision to return is
here
. Though I loved many aspects of the course, I realised that academia wasn't the path I wanted to take (partly because I realised that if I wanted to continue to succeed, I couldn't spend so much time working with food). Finally, at the end of a roller coaster 2012, I chose to leave the masters. You can read more about it
here
.
I am currently working part-time as a private tutor in Switzerland alongside my mum (
this is the website
, if you're interested) and part-time in Oxford working on food projects (freelance writing, recipe development and photography, reading, researching and, of course, working on this blog). I have also recently started work on a new book idea (May 2013). It's a really good balance at the moment. Who knows what'll happen next...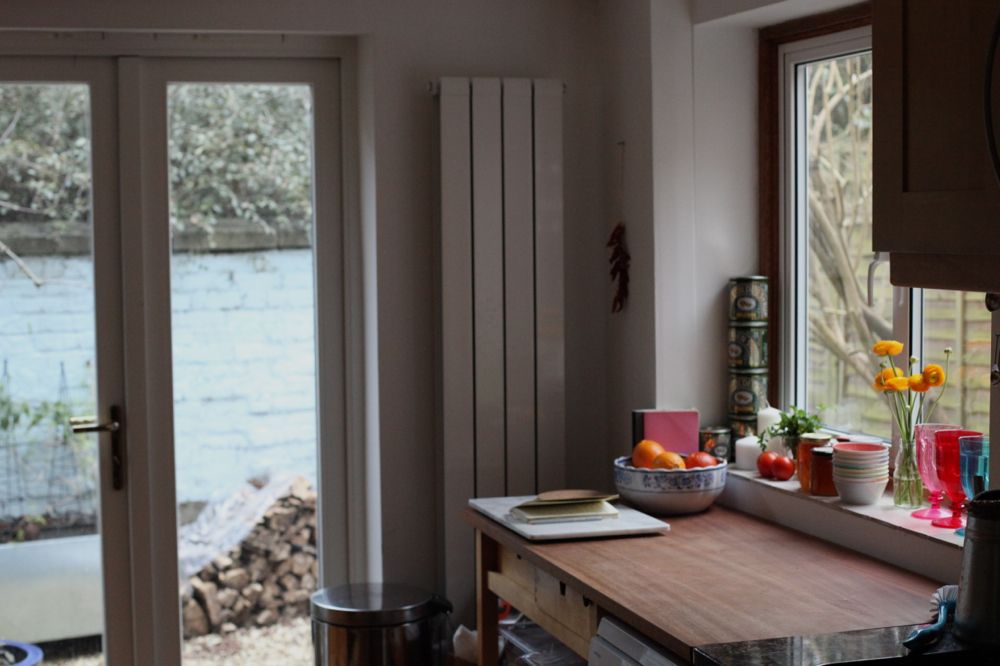 My kitchen in Oxford - you can see the wooden work surface that is usually in the background of my photos now.
I grew up in rural Devon, in South West England, which means that
I have strong opinions about scones
. My mum now lives in the Swiss Alps, so I spend a lot of time there - it's always been just the two of us, so we're very close. It's a beautiful place (and also why the name Poires au Chocolat is in French).
My life has always revolved around food. I was taught to cook by my mum (that's her, below, hiding under the crop) and my late grandma, along with many cookery books.
A summer view over the town my mum lives in.
Poires au Chocolat is named after the
Pear and Chocolate Loaf Cake
that I tested back in 2009. It was the first recipe I created from scratch that gave me that dancing-around-the-kitchen eureka feeling. We also used to eat freshly chopped pears with melted chocolate poured over the top a lot when I was a child - the combination is one of my favourites.
Sharing food is one of my favourite things to do. I love creating something with my hands and seeing it put a smile on someone's face. Giving pleasure, comfort, joy. I like sharing recipes too, for exactly the same reasons.
I hope you enjoy reading my blog! Feel free to contact me by commenting or one of the following...
Email = emma [at] poiresauchocolat.net
Twitter =
poireschocolat
Facebook =
Poires au Chocolat
Pinterest =
poireschocolat
Instagram =
emmalgardner
Google+ =
Emma Gardner
You can also follow my posts on
bloglovin'
, through the
RSS feed
or by
email
.
Current edit - 03/05/13
*
Finally, as people seem to miss it on the
Awards, Press & FAQ
page, here is my policy on
Marketing/PR/Advertising
:
I decided a few years ago that I want this blog to be pure recipe posts. I am not a restaurant critic or a product reviewer. Every recommendation is my own - all the cookbooks I use and mention are bought by me, as are all the ingredients and equipment. If I mention a restaurant/cafe/shop, I went there of my own accord and paid. I do not accept products (for review or giveaways), classes/experiences or money for promotion on the blog in any situation. This blog is not linked to any companies.