My mum loves these muffins. I can understand why: they're crunchy and sweet on top, fluffy with that wonderful brown butter flavour in the middle and studded with juicy blueberries. They're definitely the best blueberry muffin I've ever made or tasted.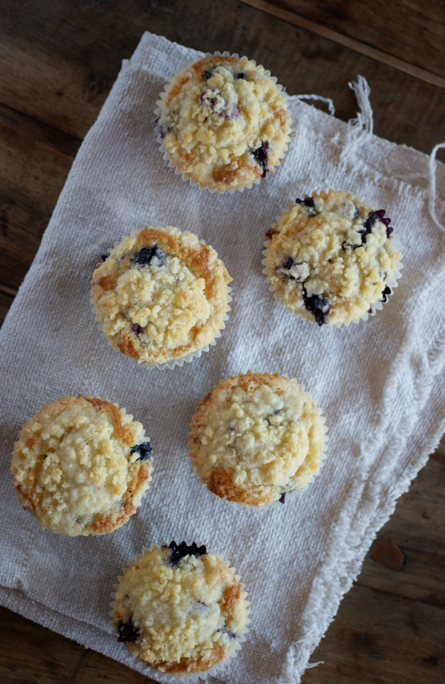 I found these on
Joy the Baker
's wonderful site over a year ago. They were one of the first recipes I converted from American measures and coming back to it now, I realise that I didn't get the transition quite right. I've put my updated recipe below.
Brown Butter Blueberry Muffins
(Adapted from Joy the Baker, recipe
here
)
For the muffin mix:
105g butter
90ml whole milk
1 egg
1 egg yolk
1 tsp vanilla essence
175g plain flour
170g caster sugar
1 1/2 tsp baking powder
pinch of salt
250g blueberries
Preheat the oven to 190C/375F. Put muffin liners in a muffin tin. Melt the butter in a medium saucepan. Keep heating it over medium heat until it has foamed up and brown bits have appeared and it smells nutty and delicious. Make sure you keep an eye on it as it happens - it takes a while but can burn quickly. Take off the heat and leave to cool slightly. Whisk the egg, egg yolk, milk and vanilla together, then add the brown butter and whisk again. Put the flour, sugar, baking powder and salt in another bowl and combine. Pour the liquids into the bowl and fold in until just combined. Fold the blueberries in. Spoon out into the muffin cups.
For the crumble topping:
45g butter
60g flour
80g golden caster sugar
Measure out all the ingredients into a small bowl. Rub together until you have a crumbly mixture. Divide between the muffins. Put into the oven and bake for around 20 minutes, until they are lightly browned and a toothpick comes out clean. Leave to cool on a wire rack for a bit before eating.
(Makes 12)