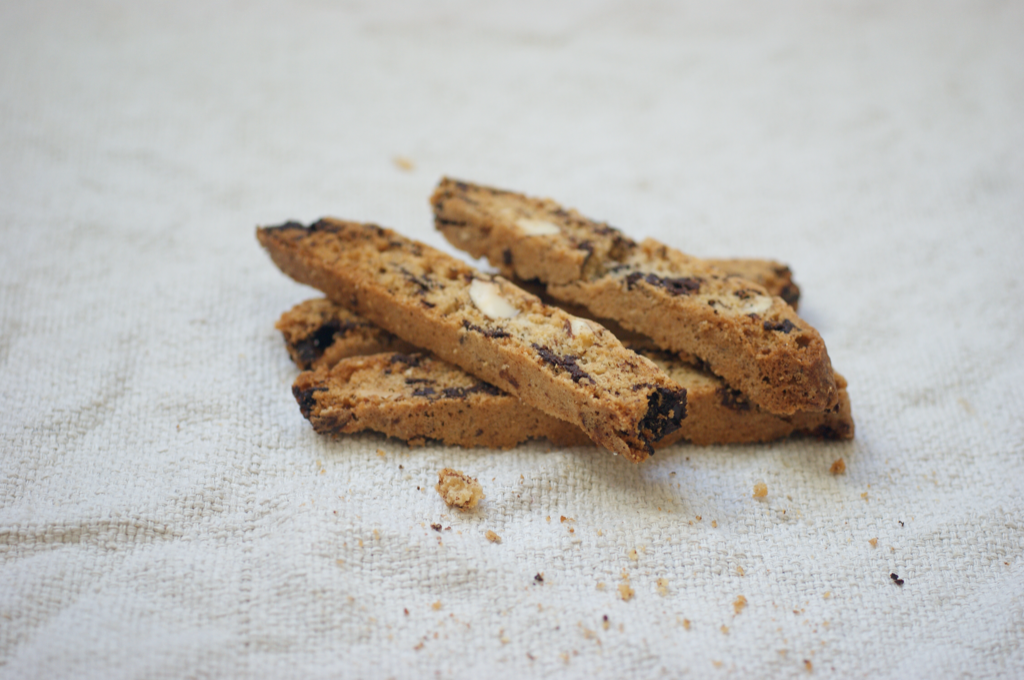 My poor friend B has come down with a case of bronchial pneumonia. This is an illness I know well, as I had it a few years ago. I wanted to send her something nice in the post to put a smile on her face.
Biscotti has been on my list of things to try out for ages. They seemed like the perfect solution as they keep so well and would be able to stand up to being posted across the country.
The whole process of making biscotti is fascinating. I really didn't believe that the first dough would bake up into loaves - it was much wetter than I expected and almost like a cake mix. Then magically it doubled in size and went hard in the oven. I'm excited about all the possibilities.
Homemade biscotti taste a lot nicer than the ones you get in chain stores. They're also not so rock solid. I don't think the brown butter is a normal inclusion in biscotti but the recipe said to cook until 'golden' so I thought I might as well keep going for a moment longer as the nutty flavour adds so much to baked goods.
Dark Chocolate and Almond Biscotti
(adapted from Leith's Baking Bible)
80g unsalted butter
75g whole almonds
185g plain flour
2 tsp baking powder
pinch of fine sea salt
2 eggs
125g caster sugar
1/2 tsp vanilla extract
130g dark chocolate
Preheat the oven to 180C/350F. Put the butter in a small saucepan over medium heat and melt. Keep heating until the butter foams up and subsides and has a wonderful nutty smell. Remove from the heat and leave to cool a little. Toast the almonds in the oven on a baking tray for 5 minutes. Whisk the flour, baking powder and salt together in a bowl. In a separate bowl, lightly beat the eggs then add the brown butter, caster sugar and vanilla. Stir this wet mixture into the flour. Roughly chop the chocolate and almonds and then stir them into the mix. At this point it seems quite wet for a cookie dough.
Divide between two parchment lined baking sheets, making two log shapes. Put into the oven and bake for about 20-25 minutes or until golden brown, doubled in size and firm to touch. Remove and leave to cool for 30 minutes on a wire rack.
Slice the logs into 1cm slices at a 45 degree diagonal using a serrated knife. Place the biscotti onto the baking sheets (cut side up) and put back into the oven for a further 10 minutes. Remove from the oven and turn over. Bake for another 5-10 minutes. They should be a deep golden brown. Cool on a wire rack and then store in an airtight container. They keep for ages.
(Makes about 40)
UPDATE 10/09/17: Made these again and really enjoyed them. I made a 2 egg mix as it seemed simpler (previously I'd used 1 1/2) - I've changed the measurements above too. I also used hazelnuts instead of almonds and toasted them first, which was lovely. My logs took more like 20 minutes for the first bake, so I've adjusted the time.