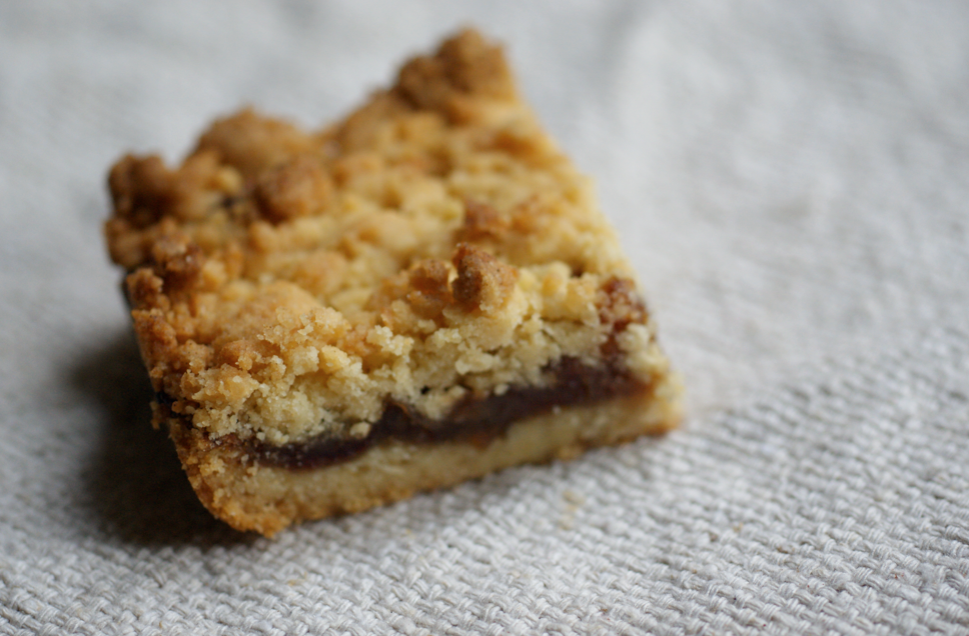 Time is a very precious commodity at the moment. This week was meant to be a breather as I only had only essay due in, but somehow it turned into one of the most stressful weeks so far this term. I'm not even sure why.
When I feel like this, my creativity and productivity in the kitchen and with a camera wanes. I find my mind wandering to work and other problems while I cook and a sense of guilt starts creeping in. Hence why posts have been thin on the ground recently.
My mum used to make these a lot when I was little. She always told me stories about the horrific semolina puddings they were served at school while she made them, as these have semolina in the crumbly mixture to give a lovely texture.
These are a great autumn snack - warm and surprisingly filling. There's a wonderful butter and cinnamon smell as they come out of the oven, too. I've always adored the date filling with the lemon and spice, especially where it has bubbled against the sides of the pan and goes chewy and almost caramelized.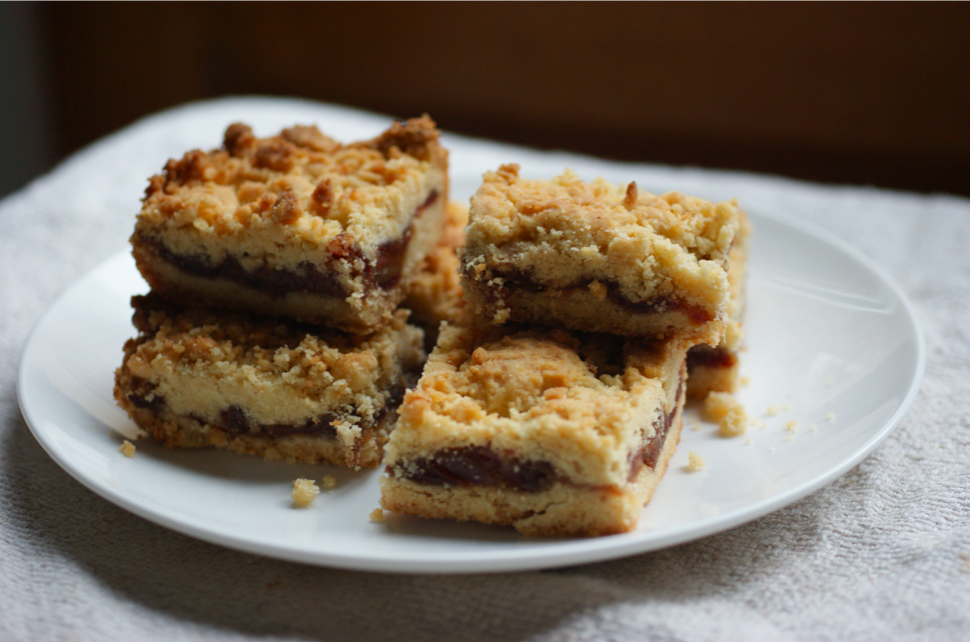 Date Crunchies
(barely adapted from Delia's Book of Cakes)
225g pitted dates
1 tbsp brown sugar
4 tbsp water
1 tbsp lemon juice
1/2 tsp cinnamon
Chop the dates up into small pieces. Put into a small saucepan and add all the the other ingredients. Warm over a medium heat until it forms a paste and you think you'll be able to spread it. You want it to still have some texture, however. Put aside to cool.
For the outer layers:
175g self raising flour
175g fine semolina
175g butter
75g demerara sugar
Preheat the oven to 190C/ 375F. Grease a rectangular tin of about 20 x 30 cm. Sift the flour and semolina together in a mixing bowl. Melt the butter and sugar together in a small saucepan. Pour into the flour bowl and mix well. Quickly tip half of the mixture into the pan. Spread out and press down. Scrape the date mix on top and spread out, right to the edges. Use a fork to crumble up the remaining topping and then sprinkle over the top. Fork it over lightly so it covers the date mixture evenly. Bake for 25-30 minutes until golden brown. Cool on a wire rack then cut into bars and serve.
(Makes about 18)