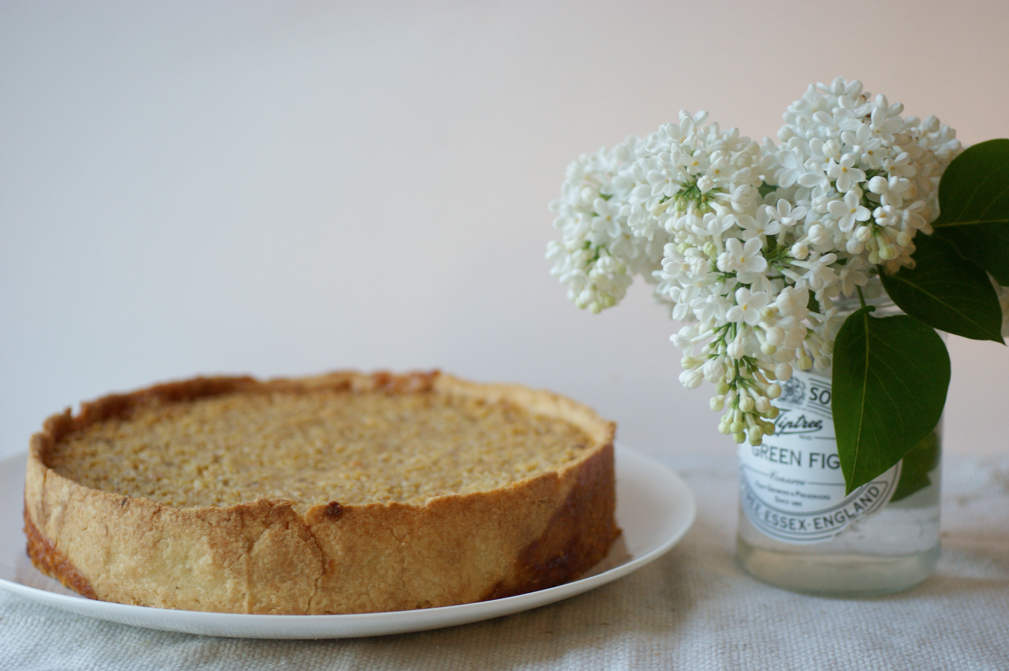 After the quite overwhelming response to my last post about my whisky and dark chocolate
Beautiful and the Damned cake
, I didn't know what to post about next. After a big project, what can follow?
In the end, I reached back to a classic. It's a classic English pudding, but also a classic to me, a childhood staple.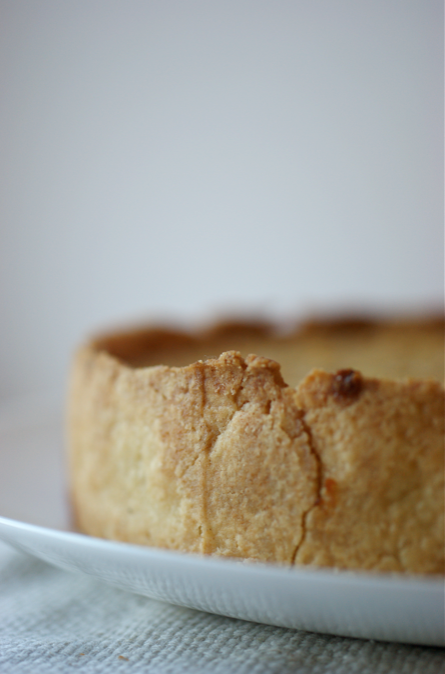 This is the Treacle Tart I mentioned in my post about
Eccles Cakes
. It's another treat from that special bakery, another childhood memory. It wasn't our house in Cornwall without at least one Treacle Tart sitting on the top of the counter.
As children the most exciting part of the day was pudding after lunch, when the tart(s) would be slipped in the Aga for a few minutes to warm and then served with big dollops of clotted cream. Later on, as teenagers, we used to come home from beach parties and tipsily sneak slices of the tart before heading to bed.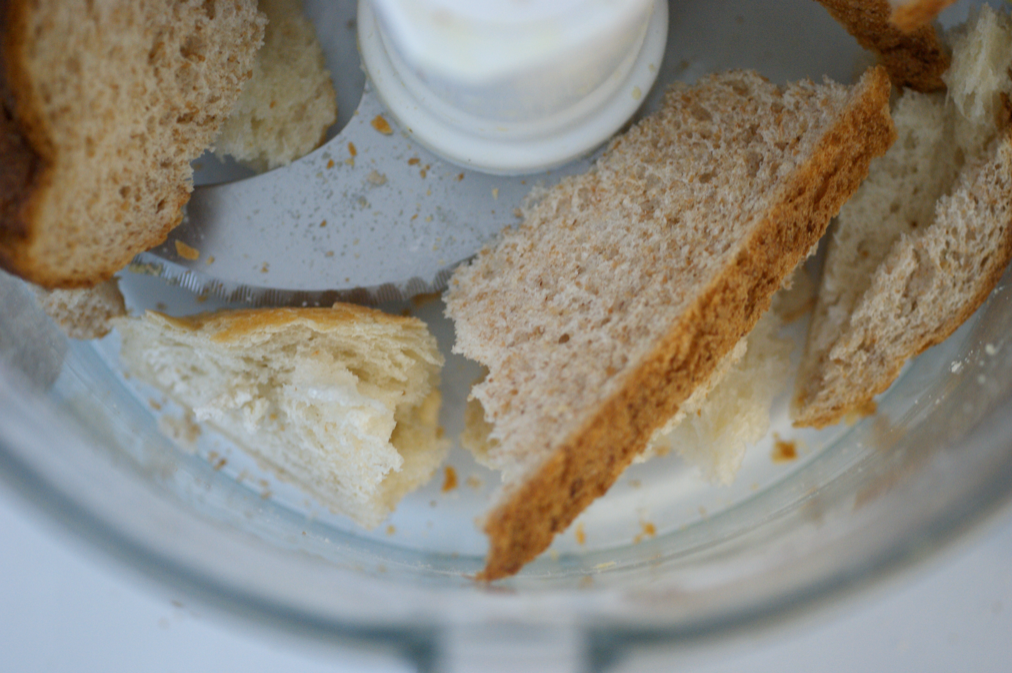 Apart from the vast amounts of golden syrup, this is actually a very useful store cupboard-and-leftovers type of pudding. The bread in particular can be whatever you have lying around, as long as it's not too seeded or flavoured. I used some old bits of wholemeal, a chunk of white bloomer that had somehow ended up frozen and a white roll.
It's also incredibly easy. All you have to do is make a pastry case and then a simple mix-and-pour filling. I added a bit of ground ginger and some double cream to loosen the set but other than that the recipe didn't need fiddling with.
I couldn't possibly serve Treacle Tart without clotted cream. It would just be wrong. (Though I did allow certain people a small amount of vanilla ice cream...). They even have matching tops - look how similar the crust of the cream is to the top of the tart!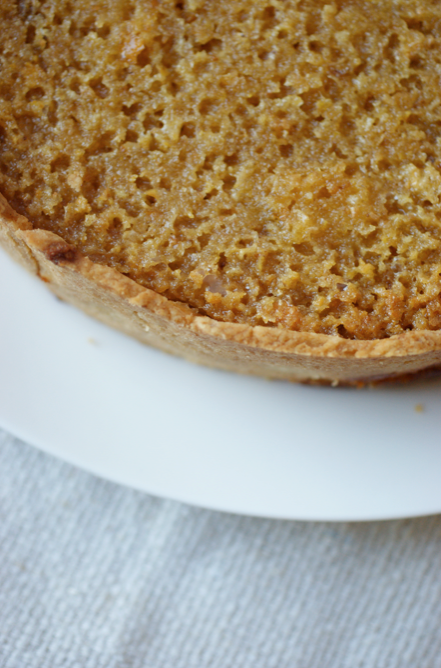 All in all, I was very pleased with this. It's not really the tart of my childhood, but I doubt I could ever replicate that. This version is yummy and so unbelievably addictive - we demolished the whole thing in one sitting.
Do try it - I know the concept is a bit odd if you haven't heard of it before, but it's so good!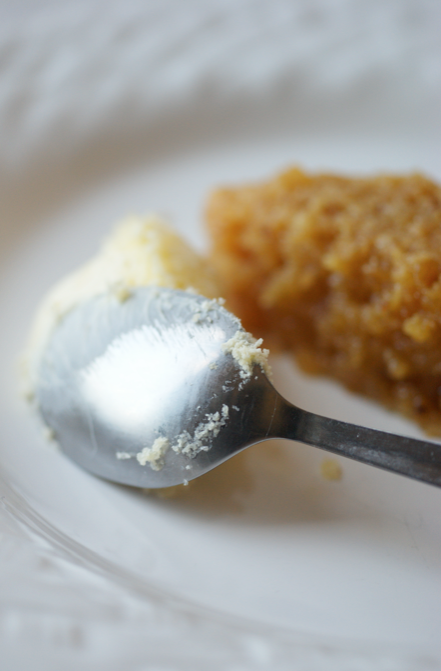 Treacle Tart
(Adapted from Leiths Cookery Bible (pastry) and Good Food Magazine, see
here
, (filling))
For the pastry:
170g plain flour
100g butter
1 tbsp caster sugar
1 egg yolk
cold water to bind
Preheat oven to 190C. Sift the flour into a bowl and then rub the butter in. Stir in the sugar. Mix the egg yolk with 2 tbsp cold water then add with a knife. Bring together into a disc and chill, wrapped in cling film, for 30 minutes. Roll out and transfer to a 20cm removable base tin. I recommend lining the sides with a bit of parchment as it often bubbles over and makes it very hard to remove cleanly. Chill in the fridge until hard. Bake blind for 15 minutes or until the edges are cooked, the remove the beans/paper and bake for another 5 minutes or until the bottom is golden.
For the filling:
500g golden syrup
125g breadcrumbs
zest and juice of a small-medium lemon
2 eggs
1 tsp ground ginger
3 tbsp double cream
Turn the oven down to 160C. Mix together all the ingredients in a bowl and pour into the tart case. Bake for 45 minutes or so, until the middle is fairly set. I had to add some foil over the top to stop the pastry edges burning. Leave to cool before slicing and eating.
Serves about 15.