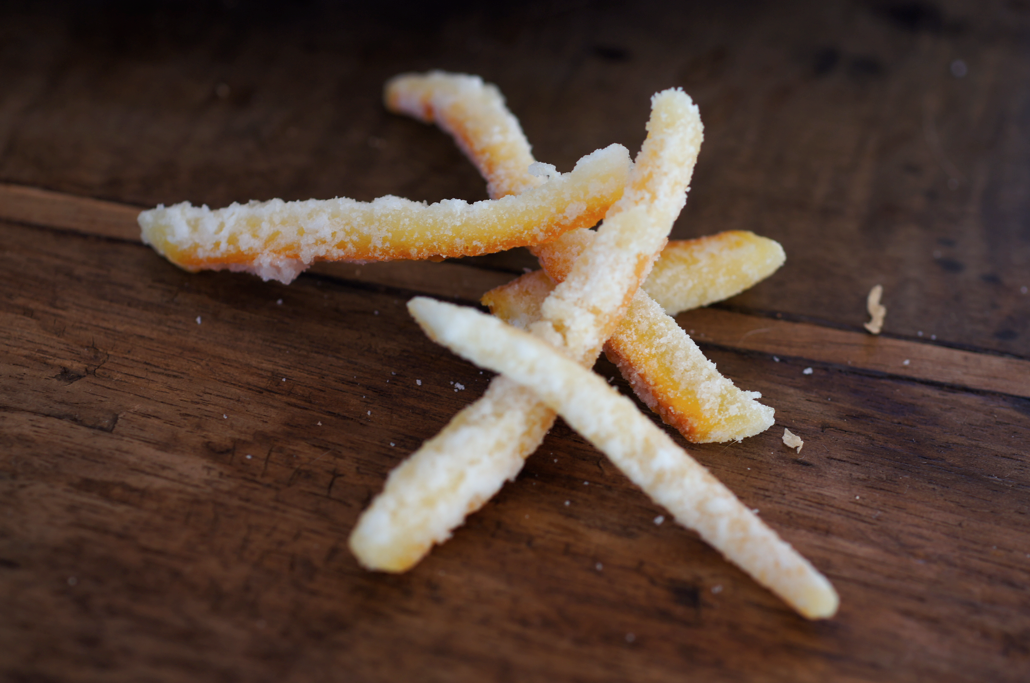 A few days ago I finally got home for the holidays. After just a day, I felt quite different in the kitchen. It's amazing how much residual stress builds up over a term and how it affects creativity. I just couldn't think straight or let things flow while I was in Oxford.
It's wonderful to be home and just bake, chat to mum and play with the puppy. He's grown so much while I've been away but he's still very playful and loving. He's sitting on my feet as I type, attempting to nibble my socks without me noticing.
I've never been a fan of the candied peel that comes in little plastic tubs and is used in loads of different Christmas baking. Mum and I have always substituted other things in for the peel. This Christmas I decided to try making my own to see if we liked them.
I'm not sure exactly what happened but just as my peels were becoming translucent, the sugar started to crystallize and dry up. By the time I realised it was happening, the whole pot had dried up. As a benefit, they were done and covered in sugar without me needing to roll them, but I'm not sure why this happened. Maybe the heat was too low? Or high?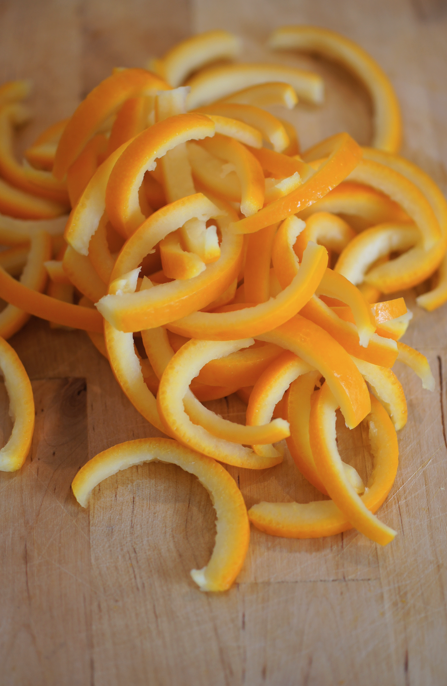 I thought they came out pretty well, especially considering the weird ending. They're taste good - perhaps not the best thing ever, but much better than the stuff I've come across before. Perhaps I'm just not a candied peel person, especially in pure form. Still, I'm looking forward to seeing how they work in other projects...
Candied Orange Peels
(adapted from use real butter,
here
)
2 oranges
300g caster/granulated sugar
135ml water
Cut the ends off each orange. Score down the sides of each one to create about six segments of peel. Carefully take each one off and scrape any loose pith off with a spoon. Slice the segments up into thin slices. Put the slices into a medium saucepan and cover with cold water. Bring to the boil over high heat then remove and drain the water away. Cover with more cold water and repeat. Repeat for a third time. Put aside for a moment.
Put the sugar and water into the pan and stir over high heat until the sugar dissolves. Continue to heat until a sugar thermometer hits 230F. Remove the thermometer, turn the heat down to medium/low and add the orange slices. Simmer until the peels are translucent - this can take from 30 minutes to about 75 minutes. Remove from the syrup and allow to dry on a rack. You can roll them in sugar at this point. Dying can take from a few hours to several days depending on how humid your area is. When they are dry you can dip them in chocolate.
(Makes about 50 - I haven't counted exactly)