Mincemeat is a bit like Marmite.
People tend to either love it or hate it. I am firmly in the love it category.
I do truly believe, however, that a significant portion of the haters would feel differently if they tasted homemade mincemeat. When I was interning at delicious., I helped out with the Christmas food taste test which among other things (cakes, stollen, panettone, puddings) tested mincemeat and mince pies. Even the ones that won weren't a patch on homemade - and we tested lots.
So if you make one thing from my blog this Christmas, please make it mincemeat. Take a look at the ingredients above. Is there anything you dislike? There's no suet, no soggy candied peel.
Making mincemeat is a family tradition. Mum and I have made it together for years. It's a very simple recipe - the only thing is stirring it every now and then. We love stirring because it's an excuse to take a peek, sample some and let the gorgeous aroma out.
Nothing smells more like Christmas to me.
Our recipe is adapted from Delia's. You cook the mincemeat on low for a few hours in the oven, which lets the butter and spices thickly coat all the apple pieces and fruits and seals all their juices in. We don't use suet or candied peel because we don't really like them, but you could sub the suet in instead of the butter and replace some of the fruits with peel.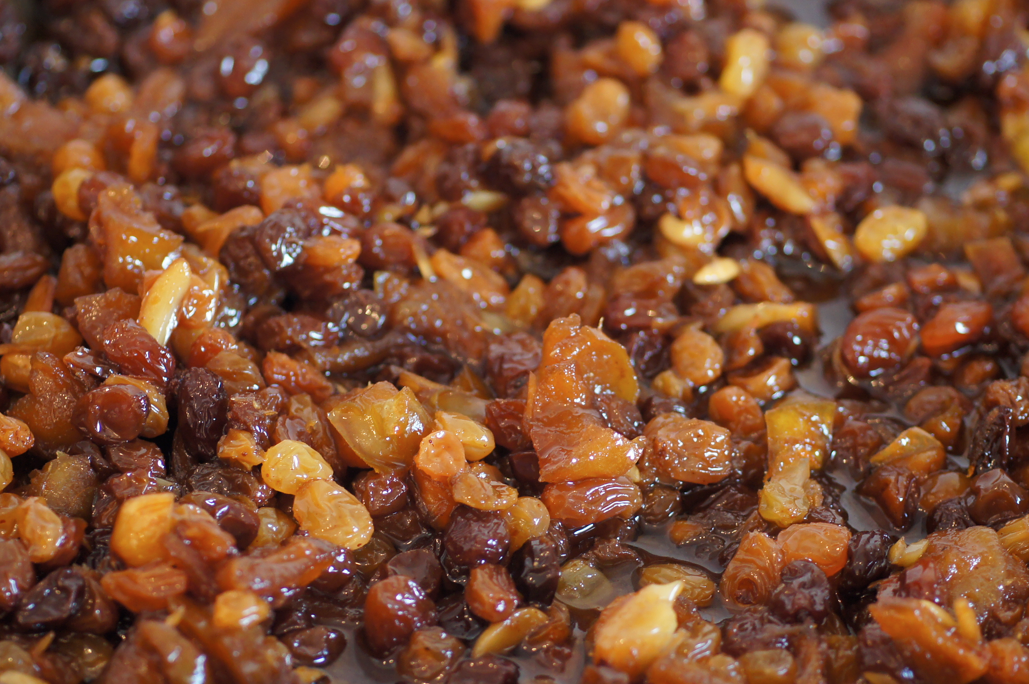 Apart from gorgeous mince pies (my recipe to come asap), you can use mincemeat in a variety of other things. One of our favourites is sandwiched in a crunchy slice. You could make a tart. Delia does a strudel. There's a another great Delia recipe for a mincemeat cake that's delicious - it was our Christmas cake last year.
This makes enough to last us through a Christmas season. Half it if you're not sure. If you're on the fence or have never had it before (it is quite a British thing) then go for it.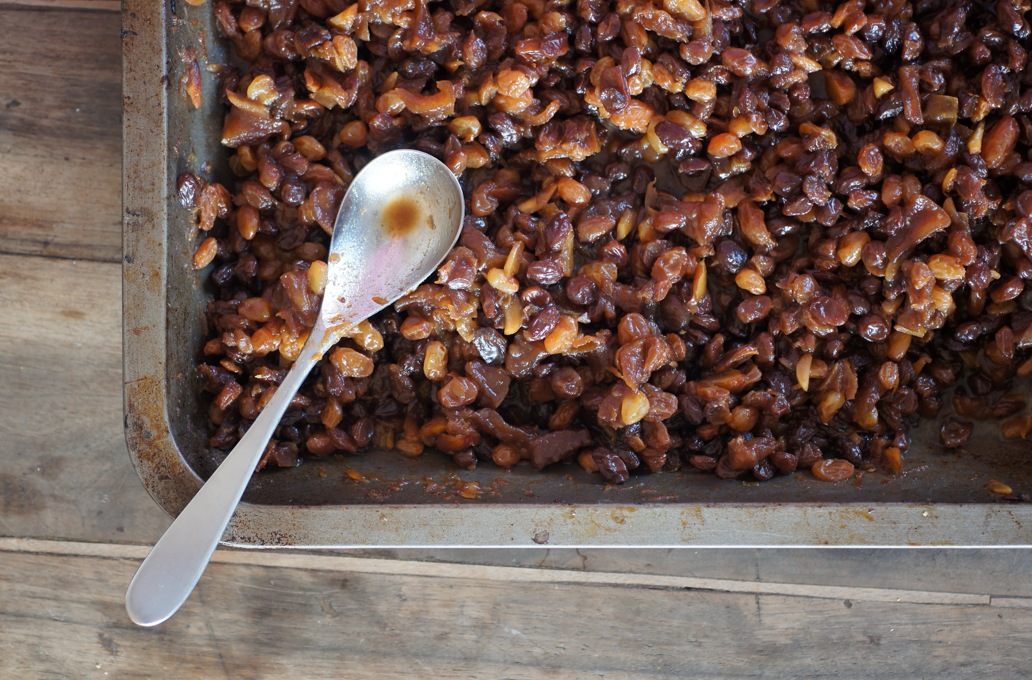 Mincemeat
(adapted from Delia Smith's Christmas)
450g apples (cooking or sour)
225g butter
340g raisins
340g sultanas
340g golden sultanas
350g dark brown sugar
2 oranges
2 lemons
50g whole almonds
4 tsp mixed spice
1/2 tsp cinnamon
1/2 tsp nutmeg
6 tbsp brandy
Core and chop the apples but don't peel them, then weigh out the 450g. Cube the butter and chop the almonds into slivers. Weigh out the raisins, sultanas, golden sultanas, sugar and spices into a big roasting tray. Add the apples, almonds and butter. Zest and juice the oranges and lemons and add that on top. Mix well. Cover with foil and leave overnight to steep. Stir every now and then.
The next day, preheat the oven to 120C/225F. Give it a good stir then put the foil-covered tray into the oven for 2 hours. Take out, stir and leave to cool. It will look fatty but don't worry. As it cools, try to stir it every now and again. When cool, stir in the brandy and jar.
(Makes 3 big jars)