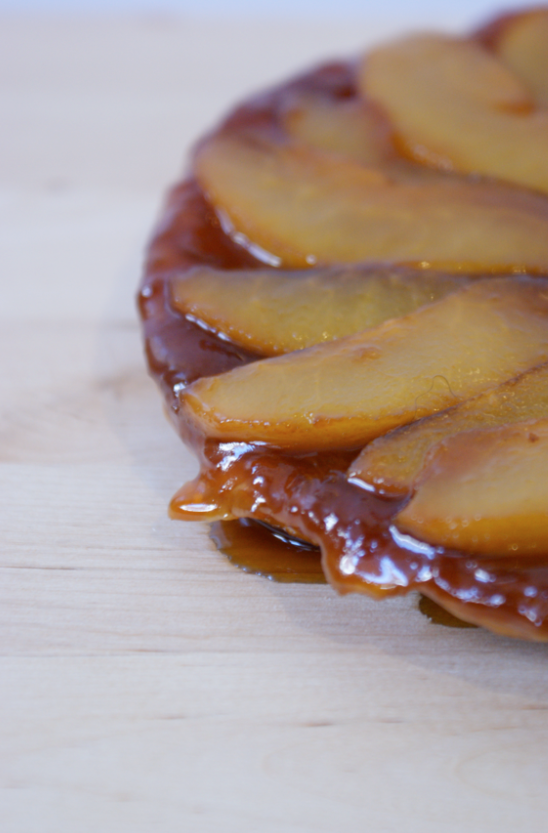 A month or so, over at the wonderful
Yummy Supper
, I saw E.'s recipe for
Pear Tart Tatin
. I bookmarked it and promised myself I would make it as soon as possible. I set about doing so a week later, but the flaky pastry recipe I tried out went quite wrong. Since then various things have conspired against me, but finally - finally! - I made it yesterday.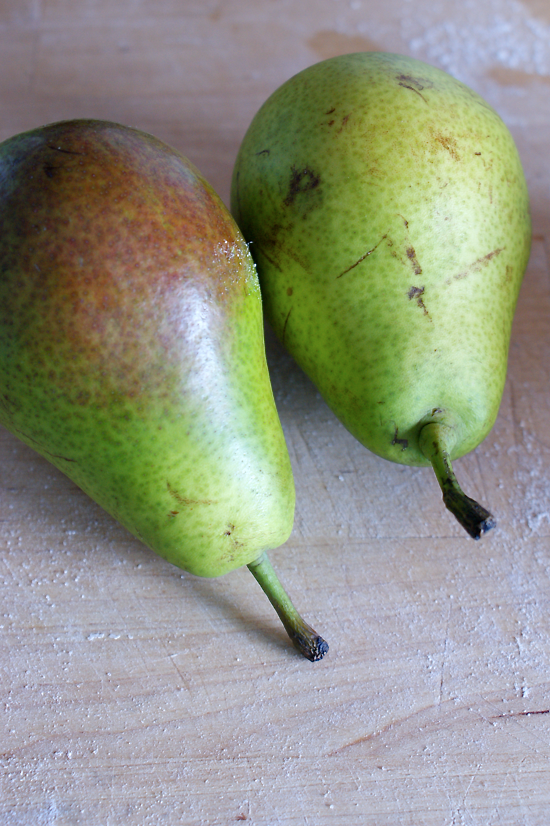 I have to admit that I bought the puff pastry from the supermarket. I really want to make puff pastry soon but I just didn't have time at the moment and I wanted to make the tart right now. (Impatient, much?)
This impatience is partly because of making
Pear and Caramel Cakes
last summer. The combination is just heavenly - and it's not hard to guess how much I like pear-and-something-yummy duos.
I've never really understood fancy salts. I remember seeing a massive selection on the wonderful food floor of a department store in Milan and being quite bemused as to why somebody would need or want that many types of salt. Then, recently, I started seeing fleur de sel popping up everywhere, usually linked with some divine caramel concoction. It still passed me by but must have lodged somewhere in my brain, for I recognised it while browsing the shelves at the supermarket. Yesterday I gave in and bought some. I still have absolutely no idea what my small local Co-op is doing selling gourmet salt, but there you go.
The box describes the salt as "precious petals of salt gathered by the sauniers hands... exalts the taste of your dishes". I love the idea of the petals, but most of all I like the idea of the dish being exalted by the salt.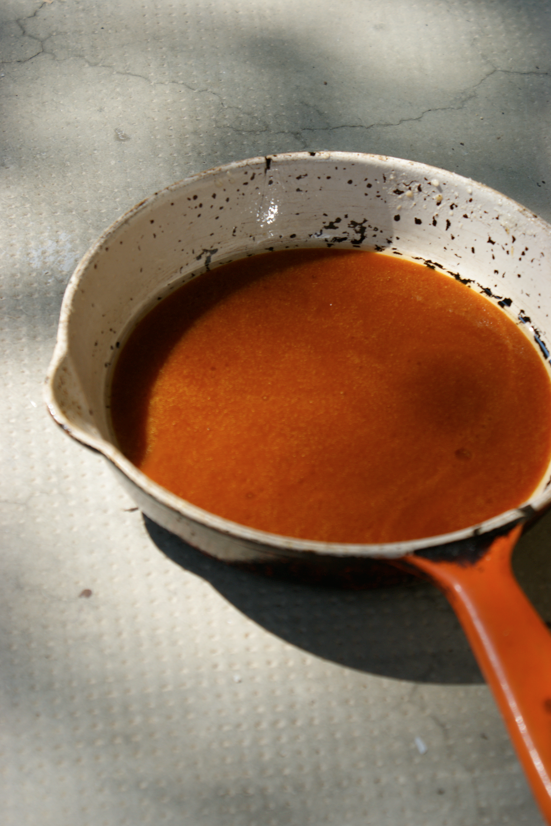 Having never used it before, I decided the easiest way to go about it would be to sprinkle a little of the salt over the caramel as it cooled (well, I thought I would do it as it cooled - I put it out on the balcony in the dapped sunshine to cool and by the time I had got back, it was solid...). I think this worked pretty well - the caramel was absolutely divine. I don't know if it would have been better to stir it in earlier but it must have melted and bubbled away in the oven. Perhaps another time I would be less hesitant about adding too much - I was worried I would ruin it.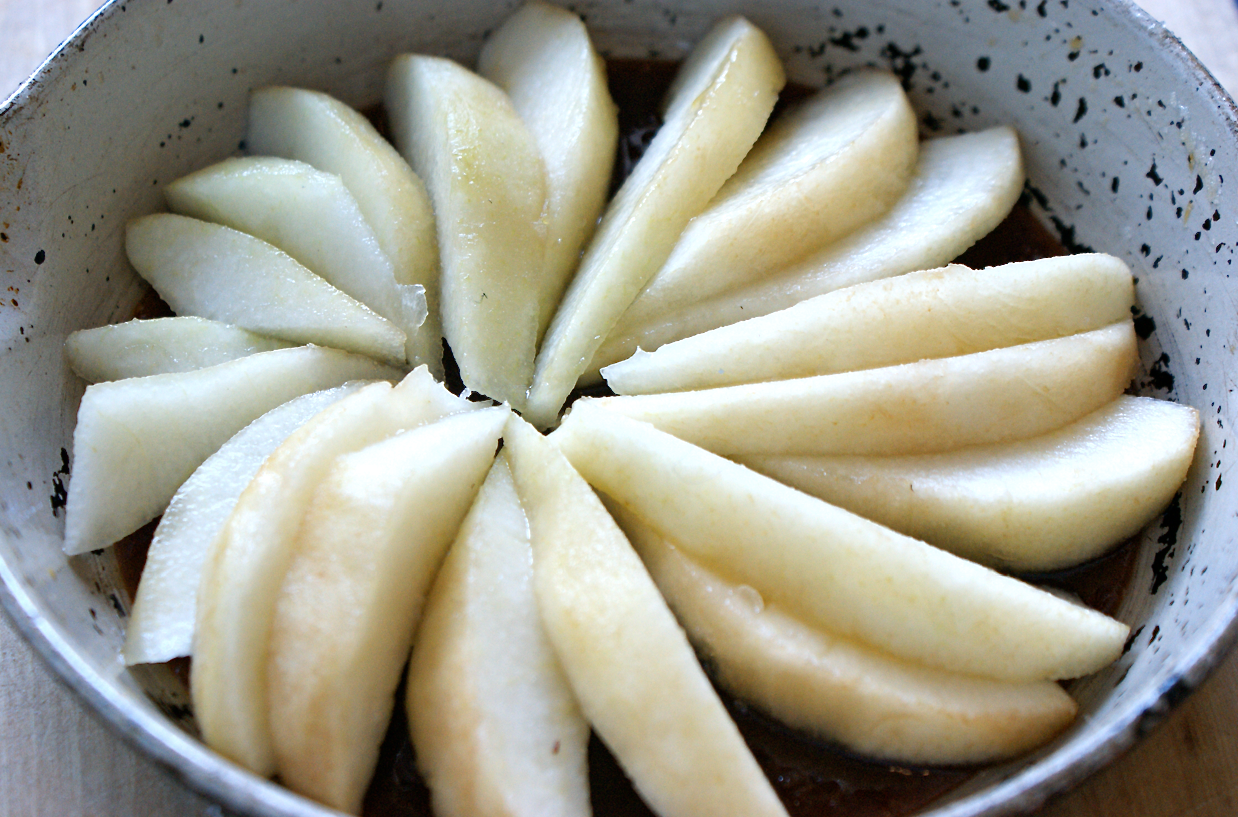 It turns out I'm not anywhere near as good as E. at arranging pear slices in a pretty pattern. It didn't help that the length of the pear slices exceeded the radius of my pan, so I ended up with a skewed flower pattern. During my lengthy arranging process, the pears turned a little brown - as you can see above. Since they were just about to be drenched in golden caramel and sit bubbling away in it for half an hour, I figured it wasn't a tragedy.
Oh, the bubbles! Oh, the smell!
All I changed from the original was halving the recipe, using puff pastry and adding the fleur de sel. The addictive qualities and taste is all down to E.
I served mine with mascarpone (which was lovely) but I think vanilla ice cream would be devastatingly good. Creme fraiche or double cream would work too.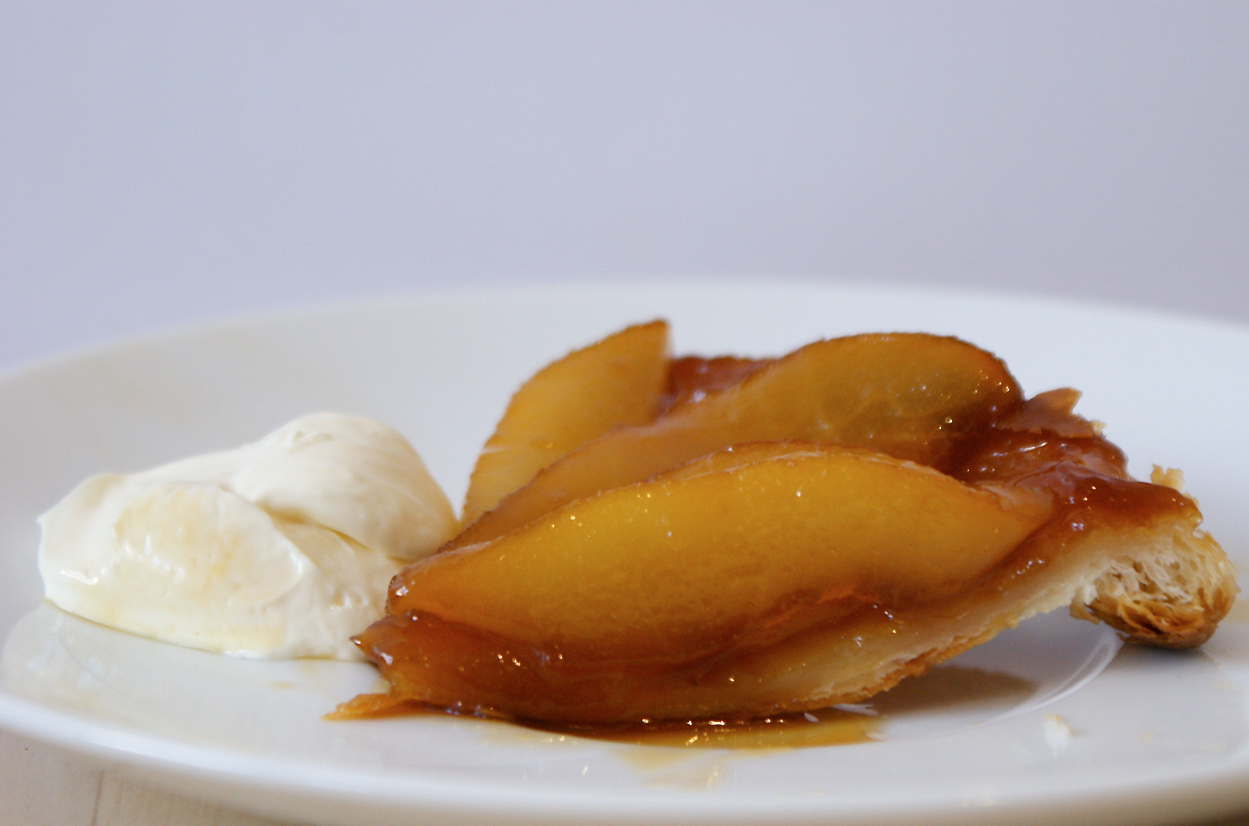 Pear Tart Tatin
50g caster sugar
1.5 tbsps butter
1/4 tsp fleur de sel
2 pears
100g puff pastry
Preheat oven to 205C/ 400F. Roll out the puff pastry to a little bit bigger then your skillet (mine is 16cm wide). Pop in the fridge on a plate to chill. Chop the butter up into small pieces and put it along with the sugar into the skillet. Heat on medium-high until the caramel thickens and turns a deep bronze - I found there was a little skimming fat - I tipped a tiny bit off but left the rest. Put somewhere cold to cool.
When it has cooled, sprinkle the fleur de sel evenly over the caramel. Peel and slice the pears and arrange them in a circular pattern on top of the salted caramel. Place the pastry over the top, lightly patting it down, and tucking the edges down and slitting the top. Put into the oven and bake for 30-40 minutes or until the pastry is golden.
(Serves 2/3)